Designing jackets and coats is made so easy with My Sloper 1.8.  We are very excited to share with you what you can do with the possibilities in the Jackets & Coats tab. Let us show you what's in store.
Collars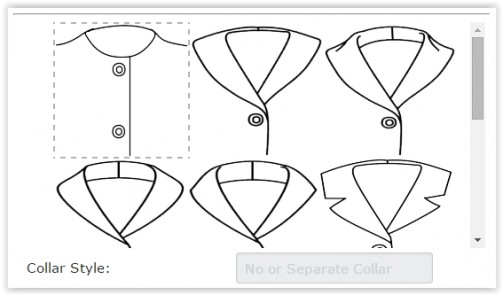 In keeping with the user interface of the other tabs, Jackets & Coats major feature is its collar variety.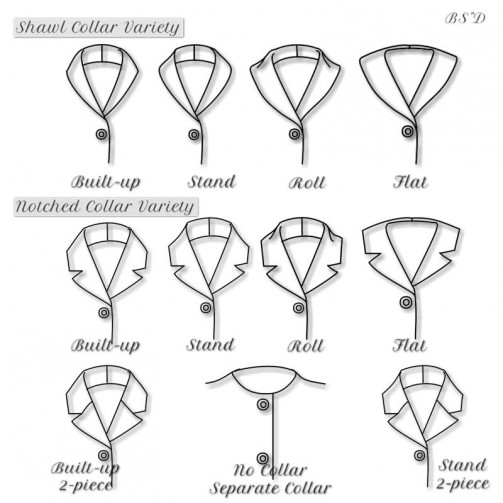 There is the option of No Collar or Separate Collar.  If you would like a Chanel or Cardigan style jacket, you should pick this style.  In addition, you can also add a collar from the Collars tab, which now has 12 collar varieties.  There are four varieties of the Shawl Collar, which we have explained in our last post.  There are also four varieties of the addon Notched Collar, which is easier to sew as it is one piece with the lapel.  If you would like a more formal two-piece Notched Collar, which is more challenging but not impossible to sew, you have two options – built-up or stand.  The Built-up style is more formal and the Stand collar is also desirable.
Shoulder Pad
You have the option to add a shoulder pad for your jacket.  We have pre-programmed a common thickness of 3/8-in or 1-cm standard jacket shoulder pad for you.  The difference between a jacket with and without a shoulder pad is clear.  Please see the following illustration.  A jacket with a shoulder pad portrays a confident, formal look and you would wear this to a job interview.  One without a shoulder pad gives a more relaxed, casual look more fitting for a picnic.  We have also added the Shoulder Pad option in the Neckwear->Collars Tab, should you choose to pick a collar to match the No/Separate Collar jacket style.
 Side Seam Styling
Jackets and coats may come with a straight side seam or a more shaped side seam.  You now have an option between the two.  We define the side seam as between the chest line and the waist line.  If you would like a side seam that runs through the hemline, you will have to configure your chest/bust ease to align with your hip ease.  The difference between these two side seams are illustrated below.
A straight side seam is more comfortable and is often designed in rain coats, men's coats, and women's lightweight summer jackets that often pair with a sleeveless sheath.  Yes, you can use My Sloper to design for men's wear and boys' wear.  It is just so flexible.
Jacket Openings
The No/Separate Collar style supports four different garment openings: Add-on Button Stand, Separate Button Stand, Faced Button Stand and Zipper.  The add-on button stand is useful for lighter-weight jackets.  The separate button stand is useful for contrasting fabrics which will match a collar and sleeve cuff.  A faced button stand is useful for a graceful Chanel-style collarless jacket. A front zipper can be used instead of a button stand and you can make a reversible jacket with a reversible zipper.  The options are many.
The Shawl and Notched collar varieties only support a faced button stand per their standard design. Here is a sampling of what you can do with collars and openings.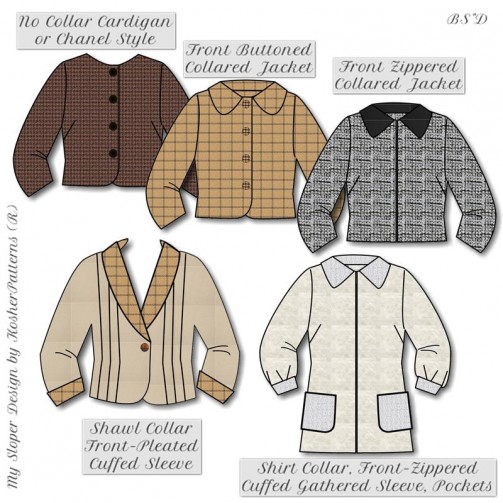 Miscellaneous Jacket Styling
You can add front pleats that run from the shoulder to the hem, a back center pleat (not shown), straight or curved front hem line, pockets, styled sleeves with cuffs to spruce up your jackets and coats.
As per our last post, we support  a variable-length jacket: drop-waist, hip, 2-in below the hip, knee and mid-calf.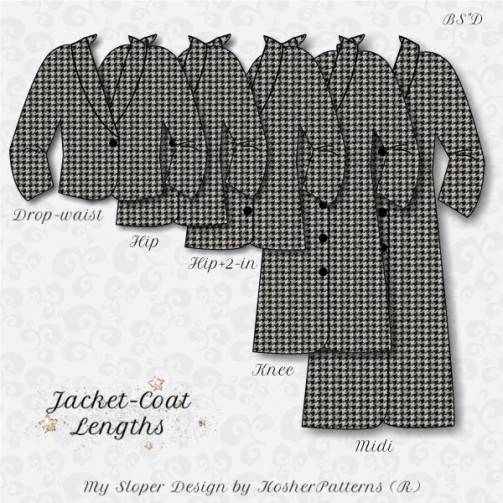 We hope you have enjoyed this tutorial and look forward to working with you in designing and sewing your favorite garments with My Sloper.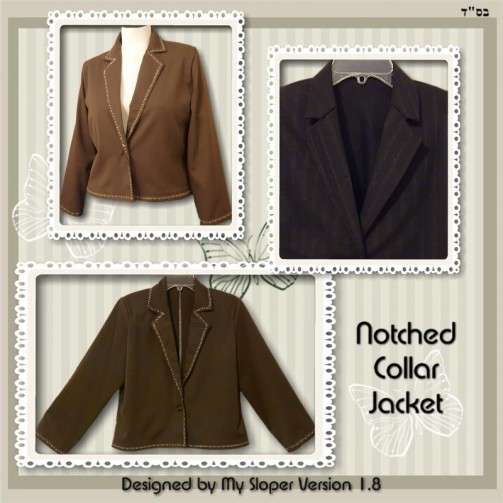 Buy