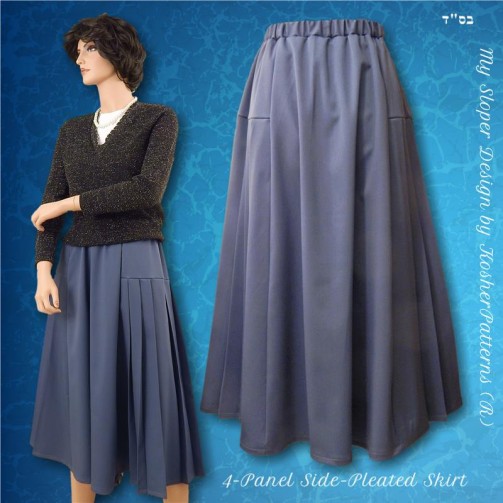 We would like to update you with our progress with My Sloper 1.8.  We've revamped the Skirt Tab to include icons for the various skirt styles and added a few new features.  Read on…
If you click on the Skirt Tab, you will see a new revamped screen with icons for skirt styles on the top right.
There are 6 skirt styles supported in My Sloper 1.8.
The Side-pleated 4-panel skirt is our newest addition.  With this style, you can have side yokes and pleats on the lower side panels.
By default, the side yoke depth is taken from the waist-to-hip depth.  You may change it to suit your personal taste, or you may choose to forgo the side yoke and eliminate it by entering 0 in the text box.  If you choose to remove the side yoke, you will have the side panels completely pleated.  Currently we have hard-coded the number of pleats to 3 with pleat width of 5-cm each.
We have also added a Degree of Flair feature for My Sloper 1.8.
There are 3 degrees of flair – 22.5, 30 and 45 for each skirt style.  The default is 22.5 degrees.
Our 4-panel side-pleated skirts are versatile and can be worn casual or formal, depending on how you pair your top.