BS"D
KosherPatterns.com is happy to announce the release of My Sloper Dress version 1.91. This version includes the following new features.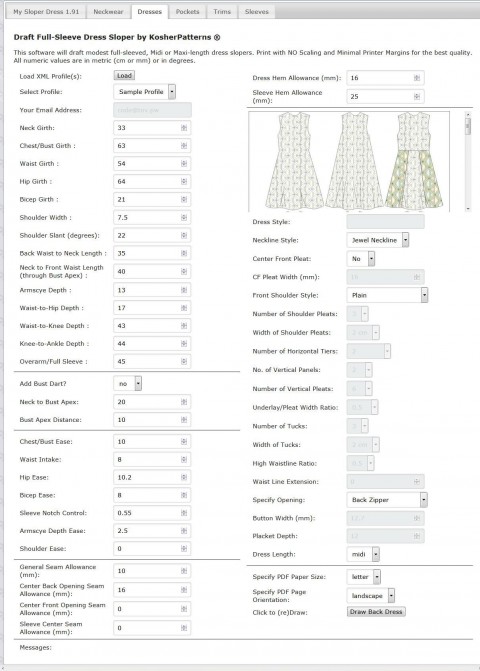 Adjustable Empire-Waistline
Like My Sloper Blouse Version 1.91, we have added the ability to adjust the height of the empire waistline. Previously, the height of the empire waistline is halfway between the chest/bust line and the natural waistline. Now you can configure the empire waistline to be as close to the chest/bust line as possible, or somewhere in the middle or closer to the natural waistline. When the empire waistline is high enough, the upper bodice will resemble a yoke that falls just under the chest/bust line. This feature is made available to you thanks to our reviewer, Andrea!
You will see in the software the following configuration for this.
Here is a sample bodice with a high empire waistline that resembles a yoke.
Lower Bodice with Tucks
Like My Sloper Blouse Version 1.91, we've added a lower bodice for the natural waistline, empire waistline and drop waistline that can be decorated with tucks.

We recently designed a Wedding Gown with a lower skirt that has these tucks sewn as pleats. Note that the gown is not sewn according to the measurements of the models, but according to a standard size 10 for tall women.
Here is the demo for designing this dress.





A Dress Demo page is underway that parallels our Skirt Demo page with high-resolution videos. Stay tuned.
Save