B"H
We are pleased to announce the release of My Sloper Skirt Version 2.0 packed with new skirt styles and features.
Modest Skirts
My Sloper Skirt specializes in drafting only modest skirt patterns that are A-line in various styles.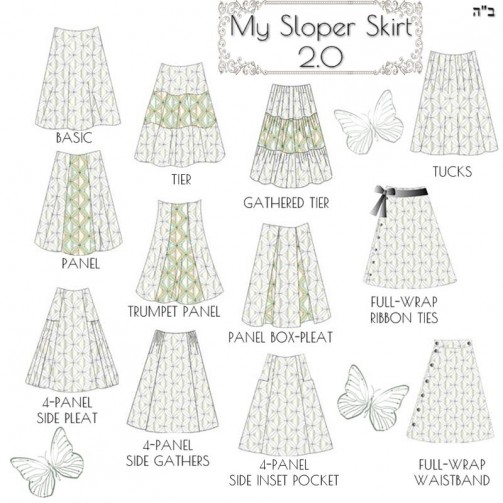 In addition to our previous 7 styles, My Sloper Skirt 2.0 has 5 new styles:
Gathered Tier Skirt
Four-Panel Side-gathered skirt
Four-Panel Side-Inset Pocket Skirt
Full-wrap Skirt with Side Buttons & Ribbon Ties
Full-wrap Skirt with Side Buttons & Waistband
We have also added a Pocket Selection for the Basic A-line Skirt.  Besides the previous 3 pocket styles (Inseam, Faux-inset, & Rectangular Patch), My Sloper Skirt 2.0 now supports 4 front inset pockets.
Slant Inset Pocket
Curve Inset Pocket
Square Inset Pocket
Obtuse Inset Pocket (based on the obtuse angle made by the side and bottom edges of pocket)
A New Look
My Sloper 2.0 comes with a new look that groups the various measurements under clear headings.
Gallery
Download
With so many styles and variations,  My Sloper Skirt is sure to be a great investment for a home blessed with daughters.