The most unique part of Kosher Patterns is .. "My Sloper" software program which allows one to input every imaginable measurement – in order to take the Kosher Pattern designs and quickly create a custom-designed pattern specifically for the user. If one isn't a seamstress, one could miss how vital this one-of-a-kind program is. Poor-fitting necklines, inaccurate shoulder slant, waist-length too long or too short, bust girth (along with price) and more cause women to shop for endless hours with often the same obstacle coming up over and over again – the clothes are standard sized. If one has a shorter than average neck, or a fuller bust, but narrow shoulders, for example, simply moving up one size will NOT provide a better fit. With Kosher Pattern's My Sloper – all these challenges are eliminated. It's no wonder many young girls and ladies find tzniut such a challenge – the choices are too limited!Rabbanit Alfasi
Download My Sloper
 Features
Blouse Sloper
Natural-waist, Empire-Waist Multi-tiered, Multi-paneled, Pleated
Skirt Sloper
Fitted Waist, Elastic Waist, Multi-tiered, Multi-paneled, Pleated
Dress Sloper
Natural-waist, Drop-waist, Empire-Waist Multi-tiered, Multi-paneled, Pleated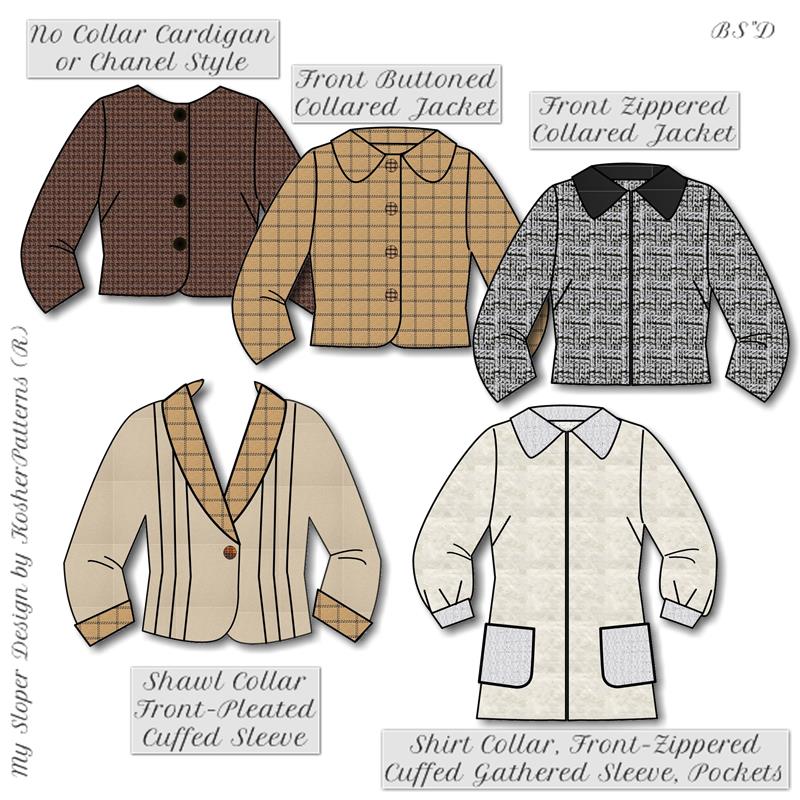 Jackets & Coats
Variable Collars, Lengths, Sleeves, Openings, Hem Styles
Sleeve Sloper
No-ease Sleeve Cap, Variable Hem Styles, 6 Styles and counting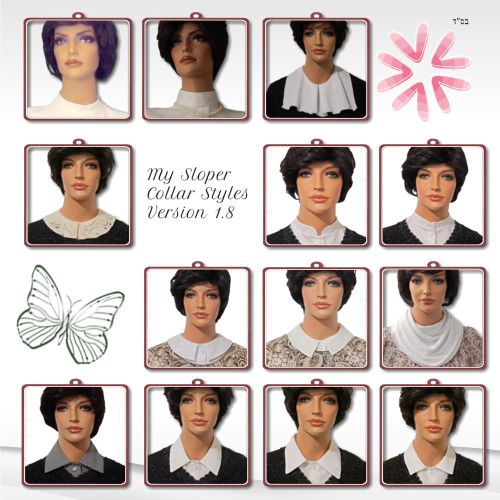 Collar Sloper
15 Collar Types and counting
Vest Sloper
Variable Length, Variable Hem Styles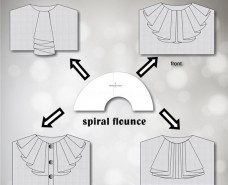 Pockets
Patch, Inseam Pockets & more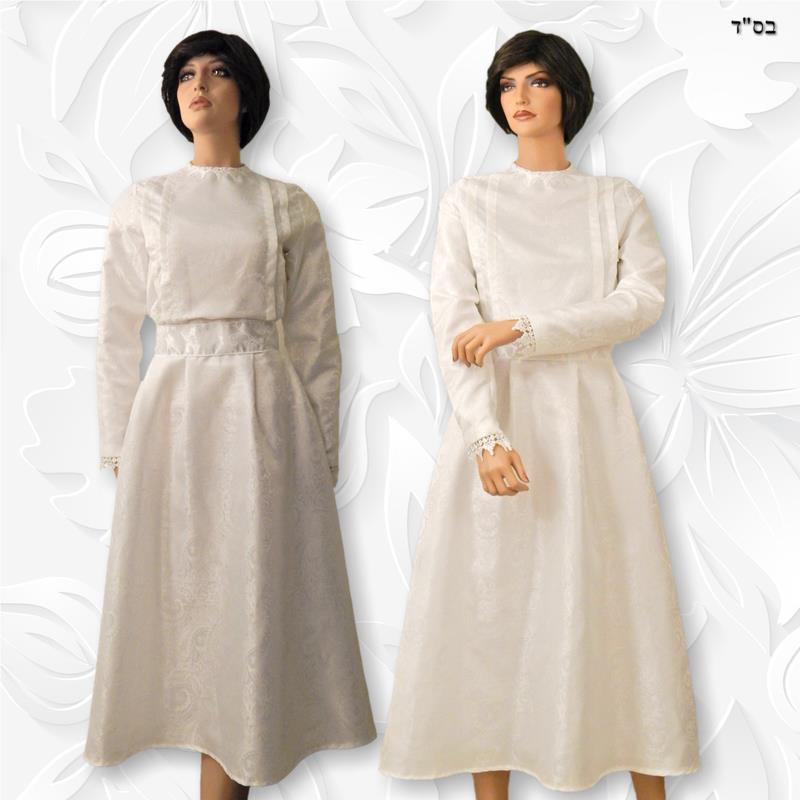 Wedding Gowns
Wedding Gown Styles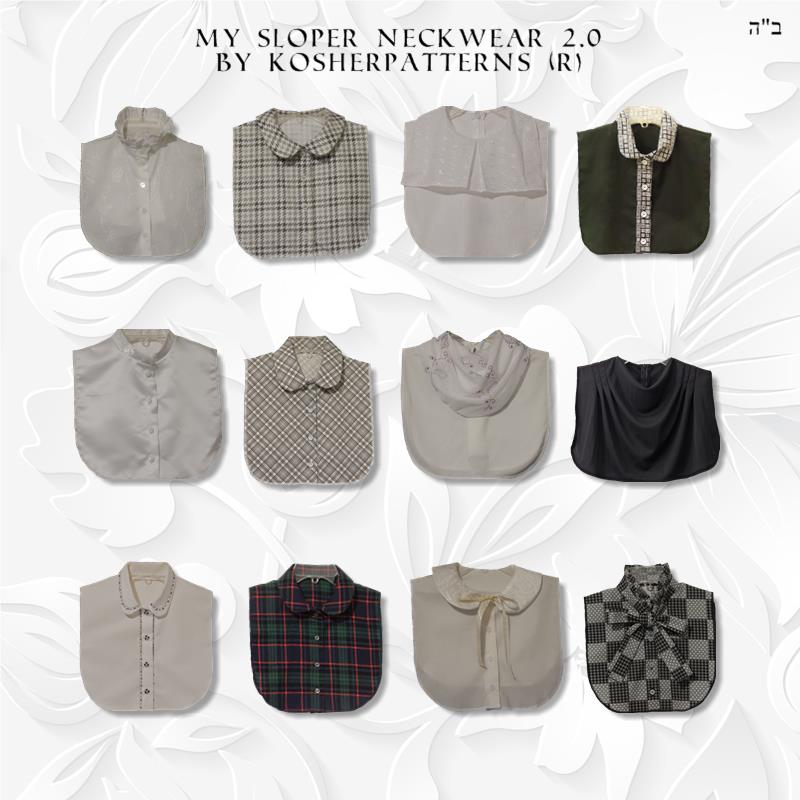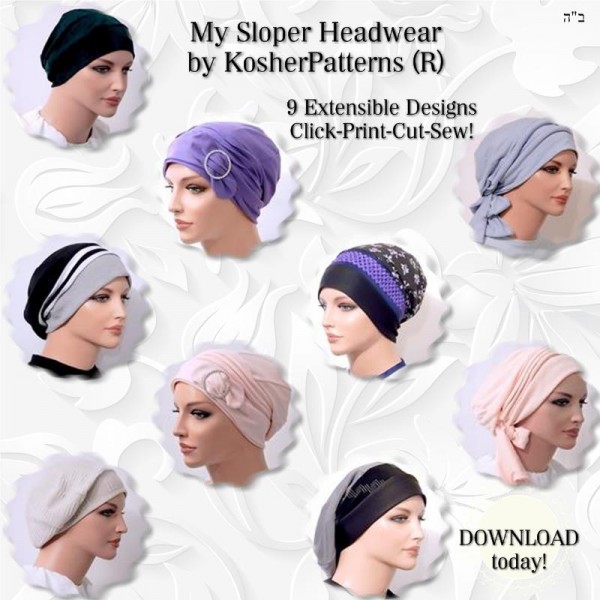 Hair Coverings
Hair Coverings
Other Testimonials
Look at the variety of dresses that are possible with one dress block from Kosher Patterns. — Janet
My Sloper is really cool!  It is so easy to use.  I love it!
So happy to find your site! Your things look unique and beautiful!
We really appreciate your online shop and craftsmanship you put into your lovely clothing.
You make tznius look beautiful! Thank you very much!
I love the way it looks and it didn't take long at all, many thanks!
I have been a very satisfied customer of a website called "Kosher Patterns" which is unique in two ways that are inspiring for frum women anywhere.  First, they are the ONLY English-speaking company that offers tzanuah patterns for the chareidi market and it is, as far as I know, run almost if not entirely by a chareidi woman.
Your patterns are wonderful! Congratulations! I have to thank you once again for your wonderful patterns! I made some garments using some of them and they are indeed very nice.
Demos
Articles
How to MeasureHow to DesignHow to PrintHow to SewSoftware Release
Frequently Asked Questions