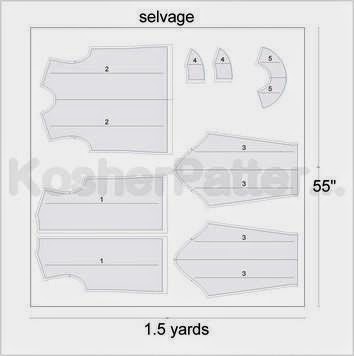 There is really no special magic formula for estimating yardage for your sewing pattern. It depends on many factors — grain line of pattern, number of pattern pieces, width of fabric, size of pattern, etc. What you need is know how to efficiently lay out your pattern blocks, also called lay planning.
Skirt Pattern
Take for example a very easy skirt pattern that only requires 2 cuttings on the fold.

In this case,place each pattern on the fold of an "imaginary" fabric next to each other, whose grain lines are parallel to the selvage of the fabric. Measure the lengthwise length that spans both patterns to determine the fabric length to buy. Measure the largest width of the skirt pattern; your fabric width when folded should accomodate the skirt width.
Common fabric widths are 35-36″ (90 cm), 44-45″ (115 cm), 55-60″ (150 cm) and sometimes as high as 108″ or 118″, depending on the manufacturer. You may want to pick the smallest width of fabric that will accomodate your layout, for efficiency. However, using the smallest width of fabric usually require more yardage, thus, more money, as the following examples will show.
Blouse Pattern
Here is another lay planning example for a blouse pattern which contains the front and back bodice blocks, the sleeve block and the facing blocks.
The above layout is for a 45-in fabric width and folded, parallel to the lengthwise grain line. There is more than one way to lay out your patterns, and you can try out different plans. For the above plan, because the front bodice, front facing and two sleeve patterns need to be on the fold, it's ideal to place them where they are. Notice the amount of waste in the empty space of the plan, not occupied by the patterns. Choosing this layout yields 2.5 yards of fabric, which may be costly.
Maybe you want to look at a wider fabric, for example, a 55-in fabric. Here is a new lay plan.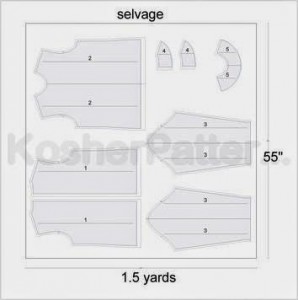 Here, the patterns are more compactly arranged, and the patterns that require 2 cuttings or to be placed on the fold were duplicated. Now this layout only requires 1.5 yards and looks more efficient.
Conclusion
In conclusion, it's better to learn how to lay your pattern pieces on your own, whether or not your sewing pattern manufacturer provides yardage samples. In addition, if you make patterns for yourself, this is a good skill to acquire.
Note:
If your sewing pattern calls for a bias grain line, then you will have to rearrange your patterns to accomodate for more space.
If your fabric has patterns in a particular direction (stripes, geometric, zigzag, etc.) and you wish your garment to follow the patterns, then you will have to consider adding more yardage to the optimized layout.
If you need to make alterations for your garments, it's best to alter your pattern first before laying them out for yardage.