B"H
Points & Rewards
To our loyal customers, we have instituted a Points and Rewards System that will reward you using the following method.
For every $1 you will spend at KosherPatterns.com in your next order, you will earn 1 point.
For every 100 points you have accumulated, you can redeem the points for a $5 discount.
We have rewarded points for your past orders as well that have been recorded.  If you're curious how much you've earned, simply log into your account and find out.
You may also earn extra points by writing a review on the products you have already purchased. You have to log in by selecting "My Account" menu item, click on the orders you have placed, and for every item in your order, write an honest review for it.  Reviews will be pending until approved.
Your reward points will expire after 1 year.  So, don't forget to use those hard-earned points before they expire.
Gift Cards
You can now purchase virtual gift cards in the amount of $25, $50 or $100 to be redeemed as store credit for yourself or for someone else.   These gift cards are emailed instantly upon payment and are valid for 1 year from the date of purchase.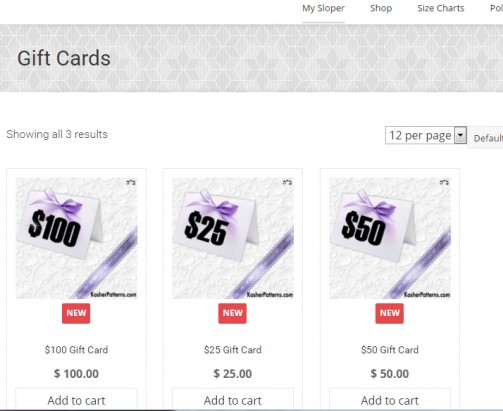 Affiliates
If you have a high-traffic website and would like to be a partner with KosherPatterns.com and promote our products legally without spamming, please sign up to be an affiliate. If you have any questions about this program, do not hesitate to contact us.