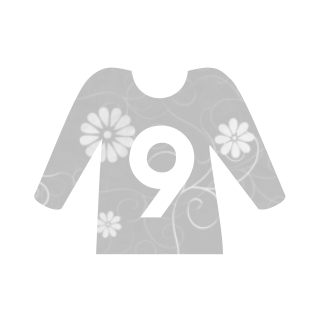 In this tutorial you will learn how to assemble a blouse based on our Kosher Blouse Pattern for women or girls.
Your Pattern Pages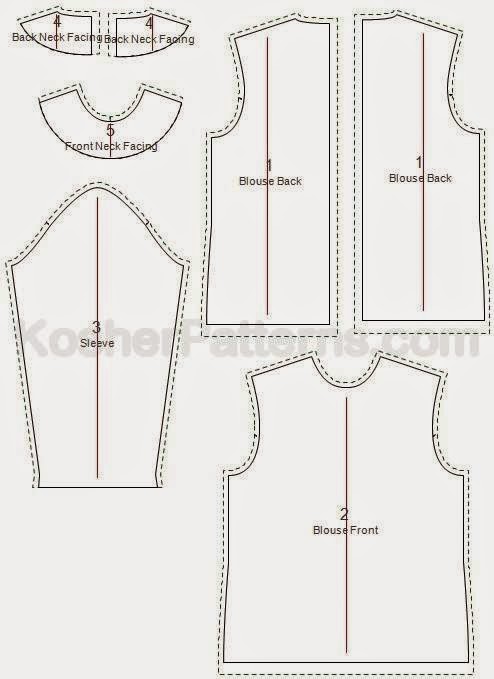 The cut pieces of fabric from our blouse pattern may look something like this.
Sew Neck Facings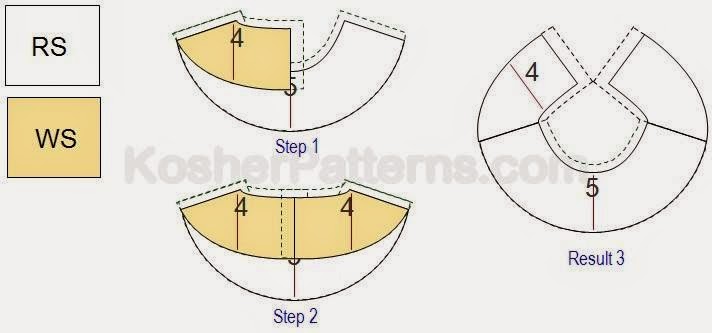 Sew Back Neck Facing to Front Neck Facing at the shoulder seam line.
Repeat for second facing.
Turn facing over to get Result 3.
Sew Front & Back Bodices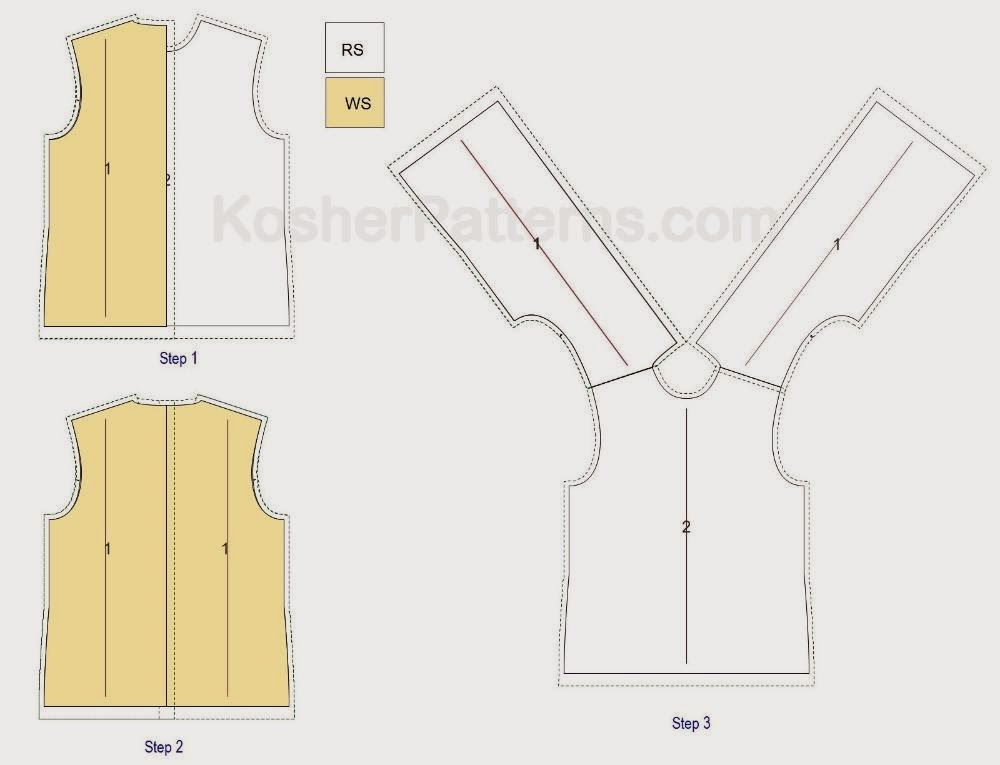 Sew front and back bodices at the shoulder seam line.
Repeat for the other back bodice.
Turn bodices over to get Result 3.
Sew Neck Facing to Blouse Neckline
With right sides facing together, sew completed neck facing to the blouse neckline.
Watch this video tutorial, courtesy of Fashion Sewing Blog TV.
Sew Blouse Side Seams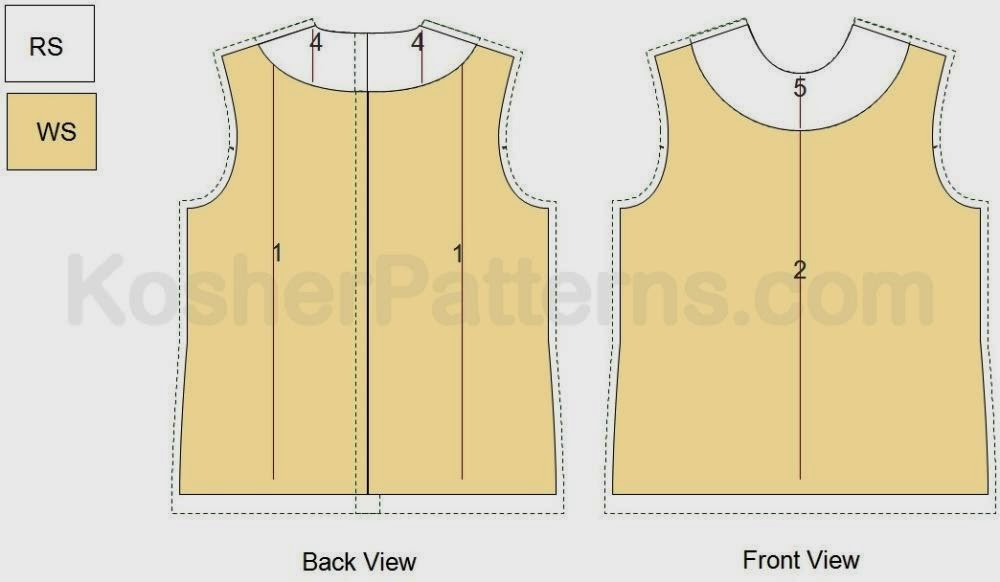 The blouse is now attached at the shoulder, and its neck facing attached at the necklines.
Sew the two side seams of the blouse from below the armhole to the hem line.
Sew No-Ease Sleeves
Your sleeve pattern may have been drafted with
no-ease in the sleeve cap
, which means that sewing this type of sleeve into the bodice armhole will be a breeze.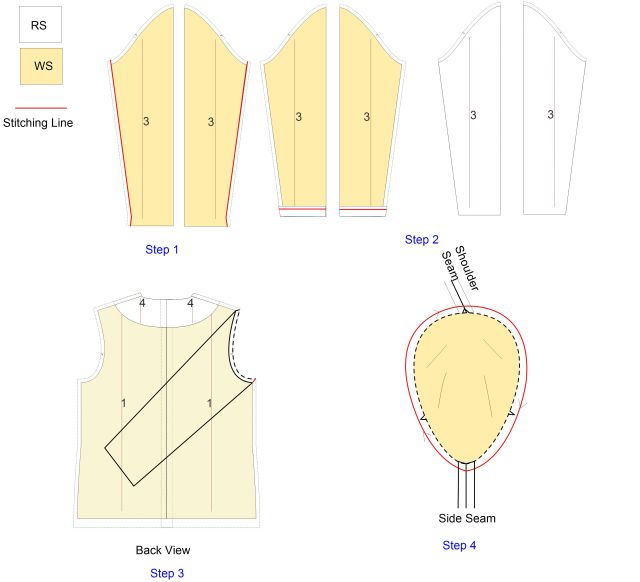 Sew side seams of sleeves right sides facing.
Hem the sleeves and turn sleeves wrong sides facing.
Match sleeve to bodice armhole right sides facing at the notches.
For the beginner:
Baste the sleeve cap to the bodice, right sides facing, matching the sleeve notch to the bodice armhole notch.
Sew with a sewing machine along the seam line.
For the seasoned dressmaker, just skip the basting step and sew the sleeve cap directly onto the armhole, matching all notches.
Repeat for the other sleeve.
Sew Set-in Sleeves
If your sleeve pattern has ease at the sleeve cap, you will have to use this method of sewing.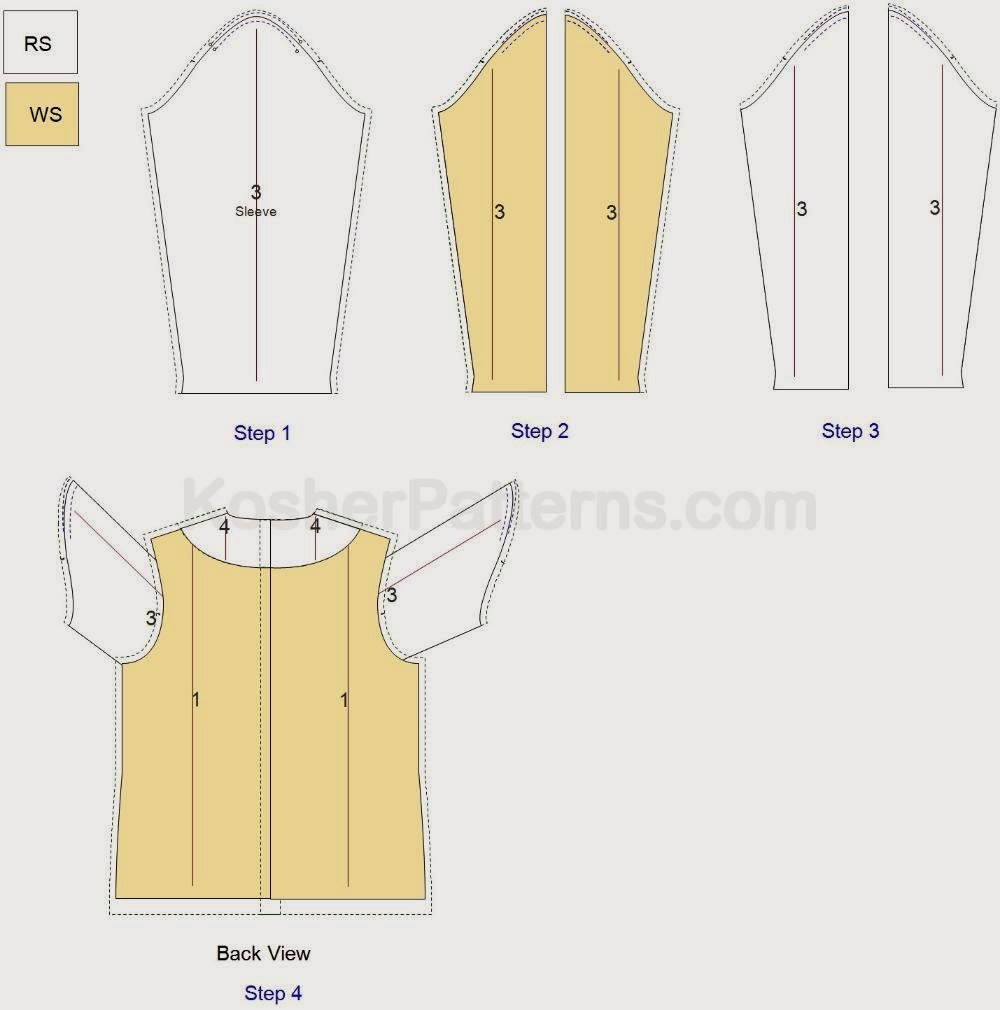 Sew one or two lines of gathering stitches at the sleeve cap from dot to dot
Sew the side seams. Hem the sleeves.
Turn the sleeves inside out.
Insert one sleeve into the blouse armhole, gather the sleeve cap to ease into the armhole. Repeat for the other sleeve.
Sew the Back Zipper
Our blouse pattern provides for a 5/8 in (1.6 cm) zipper extension allowance on the back bodice. We recommend using a modest invisible zipper.
Use an invisible zipper to close the back bodice.
Pick a zipper length that you like, starting from 4 inches.
Watch this video tutorial on how to se a hidden zipper, courtesy of Expert Village.
Hem the Blouse
The last step is to hem the blouse. Our patterns provide a 1 inch (2.5 cm) hem allowance. There are various ways of hemming and can be done by hand or sewing machine. Here's a nice video tutorial courtesy of Threads Magazine.
Download the Tutorial
You may download this tutorial in colorful PDF format (minus the videos, of course) here.
If you enjoy this tutorial, please share and add this page to your social bookmarks. Thank you!
Save