A client would like to know if a roll collar can be designed and sewn as two pieces instead of the traditional one.  Here is our answer.
Traditionally, a roll collar in its various forms (shirt, convertible, sports, etc.) is designed for a front opening bodice.  For those who prefer a back opening instead of a front opening for modesty reasons, they can re-design the roll collar to maintain its roll yet cut in two pieces.  The trick is to re-attach the roll collar at the Center Back below the roll line with mechanisms such as hooks-and-eyes, button-and-loop, etc.
One-piece Traditional Roll Collar
Here is a sample of a Traditional Full Roll Collar design, which you can download from My Sloper (Collar, Blouse, Dress).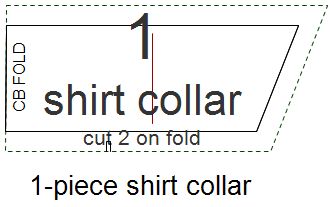 Two-piece Traditional Roll Collar
To convert the one-piece roll collar to two pieces, simply add seam allowance at the Center Back (CB). Re-write the cutting instructions to have 4 pieces instead of 2.

Assembly
Sew your garment according to its instructions.  With a back-zipper opening, sew the back zipper before attaching the collars.  Attach the collars at the neckline and follow these simple instructions.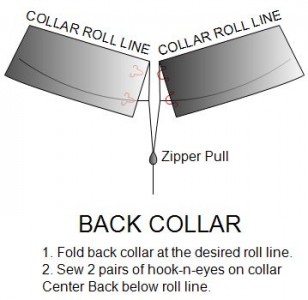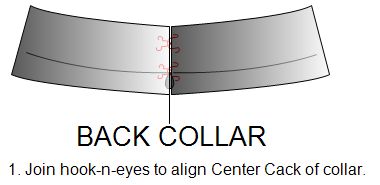 Model
We took the liberty of creating a model demonstrating that this can be done.
The technique of using hooks-and-eyes can be applied to other collars as well, including our Cowl Collar.  See below.
Our Cowl Collar is available in My Sloper Collar, Blouse and Dress as well as separately.

Hope you find this tutorial useful.  If you like it, please share it with your sewing friends.  Thank you.