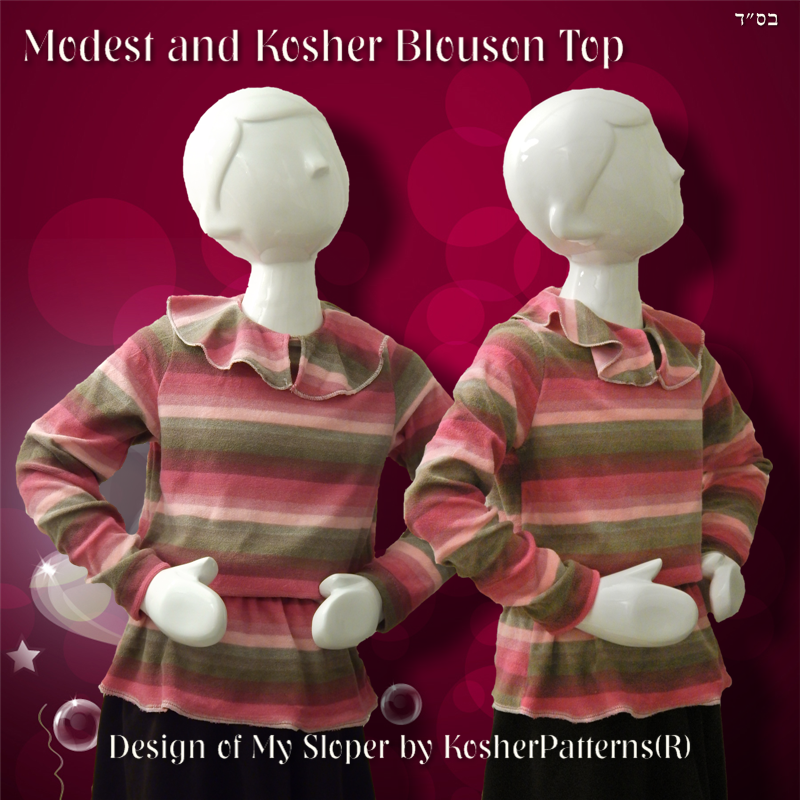 Modest Blouson Top
A modest Blouson top pattern can be easily created with My Sloper. To create the blousing effect, you need to make the waist girth plus ease measurement equal to the chest girth plus ease measurement. A little mathematics is all we need to generate this pattern. Here is a tutorial to show you how.
Some Mathematics
To compute the correct waist ease, add the Chest Girth and Chest Ease together. Then subtract from it the Waist Girth. The result is entered into the Waist Ease. For example, in this pattern, the Chest Girth is 63 and the Waist Girth is 54. Add the Chest Ease (10) to the Chest Girth (63) to produce 73. Then deduct the Waist Girth (54) from 73 to product 19. Enter 19 in the Waist Ease form text box.


Add the Blousing effect by extending the waistline down. The bigger the extension, the more pronounced is the blousing effect. For example, we can enter 5-cm (~ 2-in) or more in the Waist Line Extension box. We also can extend the Hip line to make a blouse extending below the hips. Enter the desired amount in the Hip Line Extension box. Enter the desired Hip Ease to create either a box-like sillouette or a flair sillouette at the hip area.

Front & Back Patterns
Your front and back patterns may look like these.
Test-drive My Sloper today. Download a DEMO copy.