B"H
The popularity of modest hair coverings among women of all faiths has seen an increase in the past decade.  There are many reasons besides faith that dictates the wearing of hair coverings.  Some wear for undesirable medical conditions while others wear as a fashion statement.  My Sloper Headwear 2.0 by KosherPatterns ® is a positive outcome based on the book "The Joy of Tznius Pattern Book Volume II – Designing the Extensible Cap" and the implementation of this book as real products sold at ModestAnytime.com for the past two years.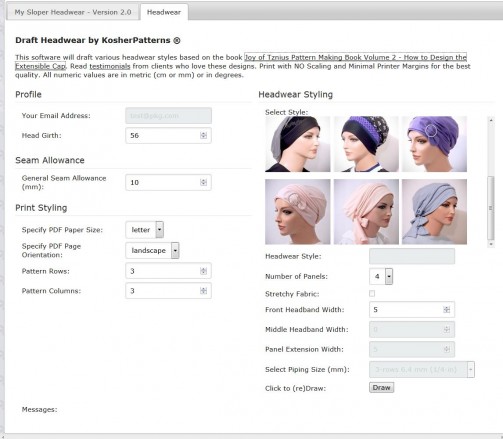 Nine Extensible Styles
The Multi-Panel Fitted Cap is ideal for a night sleep cap or as an inner cap for a hat or scarf. Made with a choice between 2 to 8 panels on the crown and a front headband, the end-user can make this pattern using stretchy knit fabric.
Sewing this style is fairly easy.  Simply sew all the panels together and join them with the headband.  Use different color fabrics for the panels and headband or lightweight solid color as a lining for wearing under a scarf or hat.
The Extended-Panel Cap gives the appearance of a "Beret" with its overhanging panel.  Works best with stretchy knit fabrics, this style is easy to put on and off.  You may secure the inside with a hair comb.
The Two-Band Snood Beret is a cap that looks like a Snood as well as a Beret.  By adding a middle band, this style takes on a different look with its panels moving back and overhang a little more. Using contrasting fabric for the middle band adds variety to the otherwise plain cap.  Use a ribbed knit for the front headband for extra comfort.
The Extended-Panel Two-Band Snood Beret makes this style more of a Snood fitting for women with longer hair.  For more formal occasions, decorate the middle band with your favorite trimmings made out of lace, crochet, pearls, beads, ribbons, etc.  Use textured fabrics for either the panels and/or middle band for special occasions.
The Hybrid Snood Beret is actually designed for summer wear with a non-stretchy lightweight woven material for the panels and stretchy knit material for the middle and front bands.  In My Sloper Software, this style is called "Non-stretchy Panel Two-Band Snood Beret."  This style, like the one before, is very versatile as it can be worn with a bun or without, producing a different look for each.
The Pleated Band Moriya Snood is a style that's marketed at ModestAnytime.com in the early fall of 2015. It produces a very neat and formal 20's look with a sliding rhinestone buckle.  The front headband actually has a 14-inch tie that wraps around the front and secured with a slider. The middle band has 3 rows of pleats that when sewn crosswise with opposing directions produce 3-dimentionsal textured-waves.
The Inline Piping Moriya Snood is an alternative to the pleated middle band of the previous style.  Instead of three rows of pleats, you can design for 2 or 3 rows of piping of 2 thicknesses – 1/4-in (6.4-mm) or 1/2-in (12.7-mm).  Adding piping details also produces a 3-dimensional texture and height to its overall appearance.
The Inline Piping Moriya Snood with Ties has a front headband that doesn't wrap around but is tied at the back or side.  This style is a popular alternative to wrapping one's hair with a large fabric or scarf as its application requires minimal effort and time.   This style can be made with or without an inner lining.  If the outer fabric is a mesh or eyelet that is sheer, line it with a lightweight breathable cotton knit.  Lining will also add extra warmth in the winter and you can wear your snood outside!

The Seamed Piping Moriya Snood with Ties has two encased pipings at the seam between the panels and the middle band, and the seam between the middle and front headband.  Use soft cotton piping material instead of those enforced with cross threads for a less stiff look that better shapes the crown of the head.

Why Version 2.0?
Our latest development of My Sloper is at version 2.0 and My Sloper Headwear inherits all the great features of this stage of development.  Some of these features include better categorization of entries on the forms-driven interface with clear bold headings.
Great Investment
My Sloper Headwear is an affordable investment for home businesses specializing in modest hair coverings.  Check out the customer testimonials of these hair coverings for a vote of confidence.
Video Trailer
Download
Gallery
Enjoy the gallery of hair coverings made with patterns incorporated in My Sloper Headwear!
Save