As a response to a request by a modest clothing advocate, we present to you a sampler of easy modest wedding gowns tznius styles for beginners, generated by My Sloper, Pattern Making Software for Modest Dressmaking.
First, a little background about why the Jewish bride and groom wear white on their special wedding day.  The custom of wearing white garments is common in Judaism.  There are several occasions when Jews wear white: Rosh Hashana, Yom Kippur and a Jewish wedding.  On these special holidays, we beseech G-d to forgive us of our sins committed against Him and we pray for a chance to begin anew in another year.  We wear white to emulate the angels in heaven which symbolize purity of sin because our goal in this earthly world is to get closer to G-d and reach a level of holiness close to the angels.
On a typical Jewish wedding day, the bride and groom take upon themselves a fast until chupah time, and they pray independently for a bright beginning to start their lives anew as one entity.  The groom typically wears a kittel and the bride wears a modest (and hopefully kosher) wedding gown.  On this holy event, we want to invite G-d's Divine Presence into the wedding hall and it is appropriate to act and dress modestly to merit this.
And your camp shall be holy, and there should not be seen amongst you anything immodest, ervat davar. — Devarim (Deuteronomy) 23:15
The question is raised whether a wedding gown can be sewn by an amateur.  At KosherPatterns.com, our belief is a resounding 'Yes!'  Designing a wedding gown is a totally different matter, but we have been striving to provide modest and kosher sewing patterns to the general public who aspires modesty in their lives so that they become more attached to our Father-in-Heaven.  Our tznius bridal gowns are tastefully designed with ample ease so as not to compromise on the femininity of the bride.
We strove to the challenge of our reader, a modest clothing advocate, who wants to see simple modest and kosher wedding gown patterns for amateurs to make on their own budget that is achievable.  So, we looked into what My Sloper currently offers and we came up with a sampling of eight different easy styles that one can make.  Here is our portfolio of sample wedding gown patterns from an ascending order of complexity.
Our sister site, KosherBridal.com, is now offering some of these styles for sale.
[rev_slider kosher-bridal]
 Cowl Neckline A-line Maxi Gown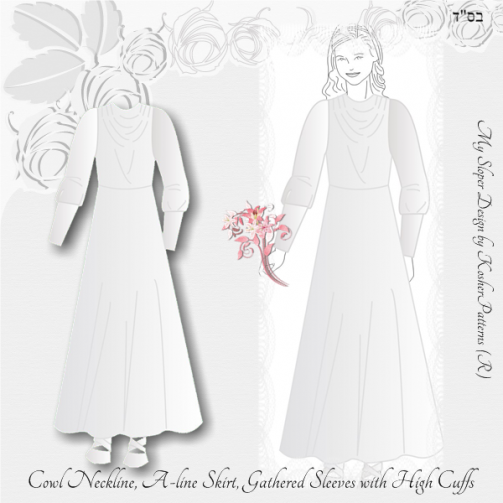 We start off with a waist-level bodice A-line maxi-length gown adorned with a cowl neckline and gathered sleeves with a high cuff.  This is a rather easy pattern to generate and to make.
Empire Waistline A-line Tiered Maxi Gown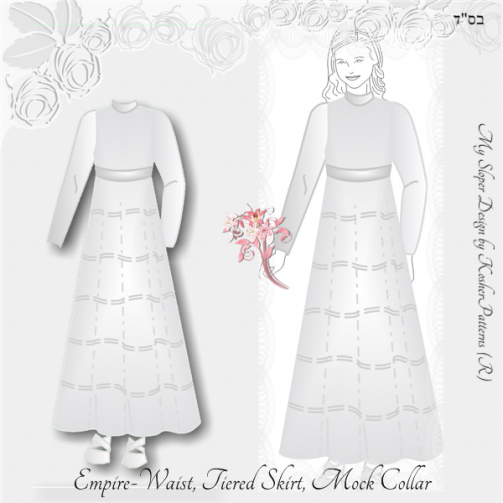 This is another piece which is easy to make by assembling all the pieces together, a tiered empire-waistline a-line gown with a mock collar for formality.   We use plain sleeves for this, but of course, our end-user can replace the plain sleeve with other sleeve patterns that come with My Sloper.
Simple A-line Dress with Lace and Front Overlays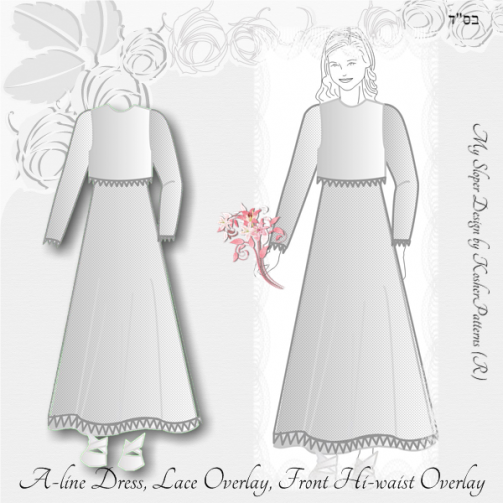 This option is actually inspired by a wedding gown from one of our clients who chose a similar pattern from a magazine and had it professionally made by a seamstress.  The gown is a simple A-line dress but it has added to it a frontal overlay from the same material that reaches the high-waist level.  In addition, a sheer lace overlay is added to the plain sleeves and skirt and Venetian lace borders all the overlays.
Layered Tiered A-line Gown with Sleeve Flounces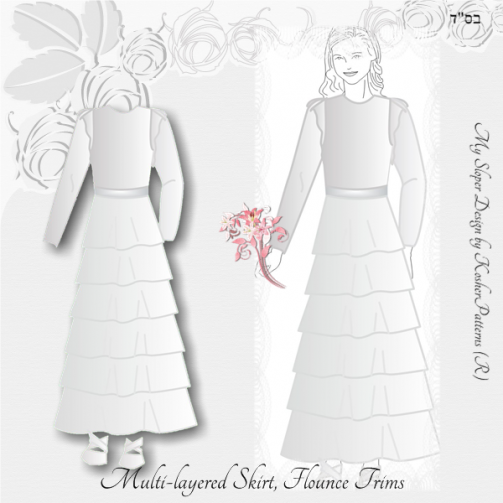 For those who love flounces and layers, this pattern is another easy one to generate and sew.  The layered tiers are flounces that are added on to a regular tiered skirt pattern.  Add two pairs of tapered flounces at the sleeve caps for a matching layered effect.
Multi-paneled A-line Gown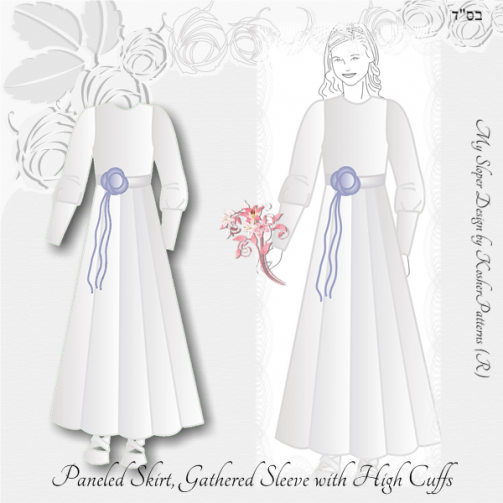 The gathered sleeves with high cuffs return for this pattern, matched with a waist-level multi-paneled skirt.  Our illustration shows ten panels.
Box-pleated Drop Waist Maxi A-line Gown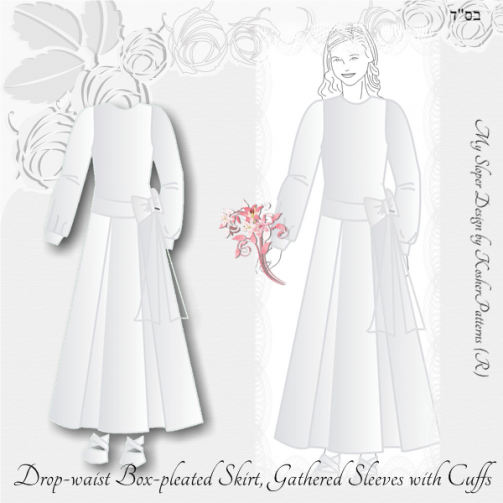 This pattern calls for a drop-waist bodice paired with box-pleated skirt and regular gathered sleeves with cuffs.  Add a nice bow or flowers along the waist seam line for a lovely feminine touch.
Cowl Neckline Blouson Waist Laced Caftan Sleeves and Skirt Overlay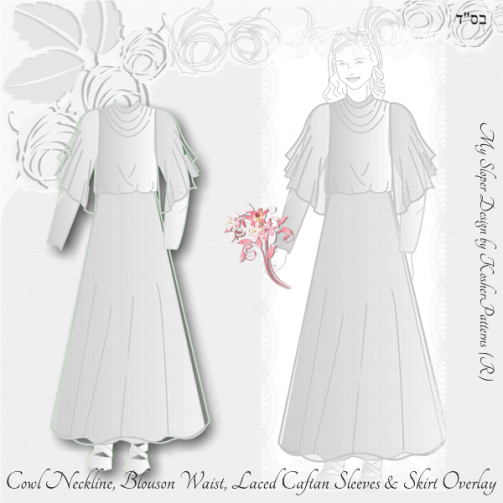 This Victorian-style gown has a laced Band collar with a Cowl neckline and Blouson waist.  In addition it is laced with Caftan Sleeves and skirt overlay for a soft feminine charm.
A-line Gown with a Drop-waist Shawl Collar Jacket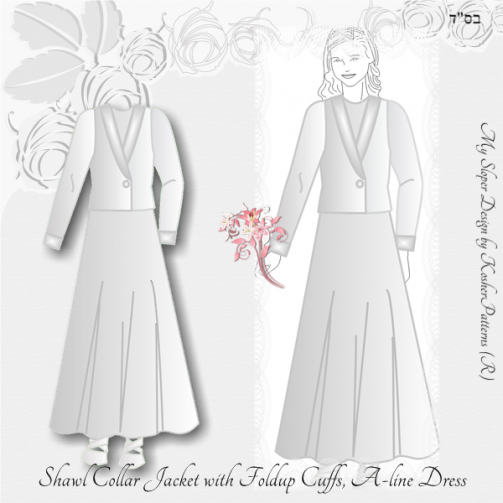 This last pattern is probably the most time-consuming of all, only because it comes with a formal shawl-collar jacket with turn-back cuffs.  The gown itself is a simple A-line dress pattern that comes freely with My Sloper Demo.
Sewing Time
All the above patterns are easy for beginners and can be sewn in a day or two, depending on the sewer's sewing speed and comfort level.  Pattern assembly is a breeze with My Sloper.  The most amount of time spent on these wedding gown patterns is not the sewing but the fabric and notions selection and purchase.  Learn how to estimate fabric yardage.  Lining a garment depends on the opacity of the outer fabric.    Satins come in different grades and textures, but most bridal satins are quite opaque and of medium weight. We are not limited to using satin as the fabric of choice.  We can also try cotton or cotton-polyester blend jacquard or chenille fabric that are usually medium weight.
Ordering a Custom Pattern
Contact us if you would like one of the above patterns custom-made for you based on your measurements.
Download My Sloper Dress Demo
Get a free dress sloper pattern by downloading the DEMO version of My Sloper Dress.
Bridal Gown Gallery
Here's a Bridal Gown Gallery with prototypes made from some of the designs above.  Some of them are available for sale at our sister shop.