B"H
We are pleased to announce the release of My Sloper Dress 2.0, with new dress patterns and sleeve hem styling and other new goodies.
Modest Dress Patterns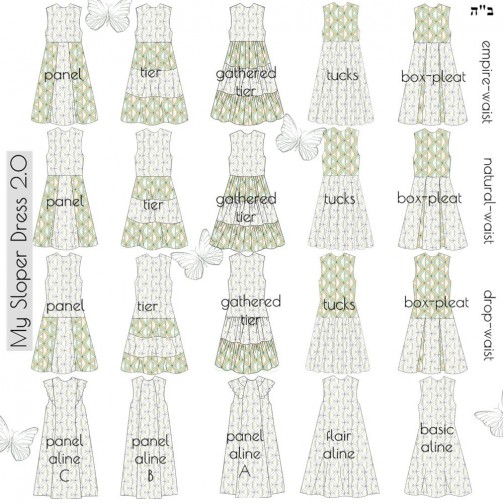 With the addition of 3 new dress patterns that focus on paneling and 3 new gathered tiers patterns, My Sloper Blouse 2.0 offers at least 20 ways of enhancing your modest wardrobe. These new back-zipped styles require minimal configuration, just click on the pattern, add enough flair at the hips, and print. Let's get started with the new styles.
Panel A-line Dress Style A
This style offers a front and back neck yoke, a middle panel and option to add flounce along the yoke seam line. The flounce pattern can be generated in the Trims Tab as there are so many different ways of designing a flounce. We leave it up to your creativity! However, we offer you some guidance on the measurements for the flounce when you select and draw the back and front dress patterns.

Use the Computed Front & Back Yoke length (see blue highlight) to design your flounce length. Cut 2 of this flounce pattern for the blouse, one on each side.
Panel A-line Dress Style C
This style has panel lines starting from mid-shoulder to the hem. It is similar to a Princess-line style, but designed for a modest A-line silhouette. Flounces can be added along the top front and/or back of the panel line. Use the guide below to help you with the flounce length.

The front and back panel trim lengths are merely a guide; you can make the flounce length shorter or longer.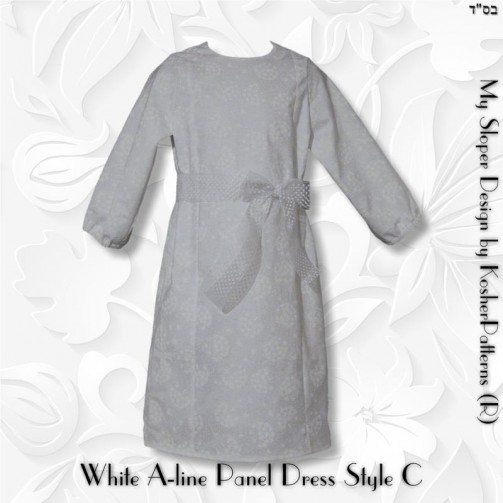 Panel A-line Blouse Style B
This style's panel line runs from the middle of the front/back neck towards the hem line. It has lots of options for flounce styling. See some samples from My Sloper Blouse 2.0 for a few options. Use well-blended fabric prints and colors for modesty. Avoid color-blocking that focuses on attention-seeking bold, contrasting loud color schemes.
Guidance for the flounce length is given from these computed front and back neck measurements.

The panel line runs from the middle of the front neck to the hem. If you want to add flounce to the front middle panel, take half of the computed front neck measurement for your flounce length. If you want to add flounce to the neckline that stops at the front and back panel, take (half of computed back neck measurement + half of computed front neck measurement) for your flounce length. That's all there is to it.
Dress with Gathered Tiers Skirt
My Sloper Dress 2.0 has 3 new variations for tiers with gathers.  Most gathered tiers utilize a lot of fabric rectangles, but My Sloper Dress 2.0's gathered tiers skirt pattern are all A-line based and will save you a lot of fabric.  These gathered tiers style apply to empire, natural and drop waistlines.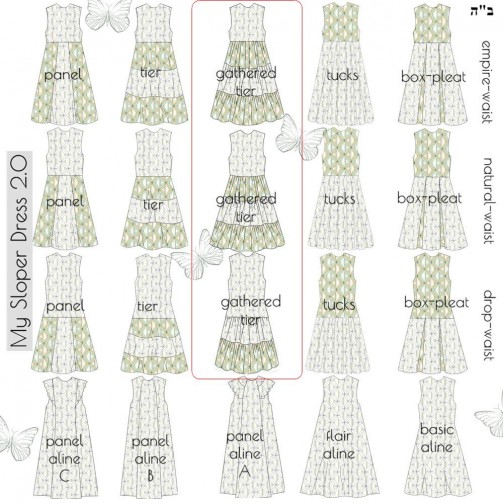 Sleeve Hem Styles
Like my Sloper Blouse 2.0, My Sloper Dress 2.0 also has an addition of 4 new sleeve hem styles: Elastic Cased Hem, Elastic Case Frill, Flair Cuff and Frill Cuff.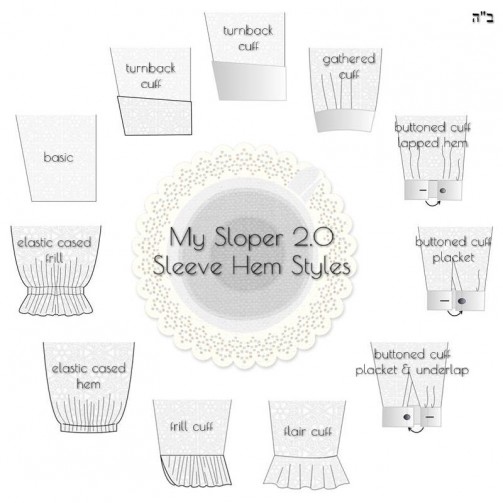 Sleeve Tab
The Sleeve Tab has been eliminated from My Sloper Dress 2.0. Everything you need to style the sleeve hem is in the Dress Tab. In addition, we added a check-box to help you tweak the sleeve cap.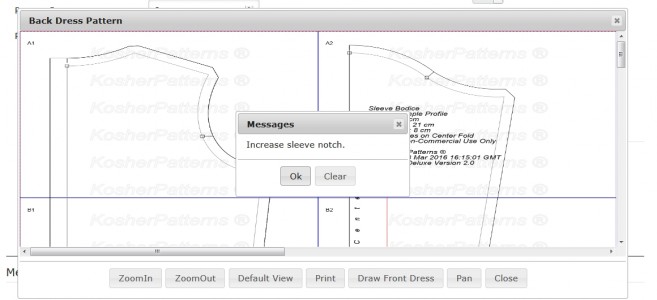 You don't need to follow these message guidelines if the sleeve cap looks smooth to you. The message will disappear if the sleeve notch control value is satisfied. My Sloper Dress 2.0 uses complicated math to guide you to produce the smoothest sleeve cap possible, but sometimes it will alternate between increasing and decreasing the sleeve notch control value and will not settle down. In that case, you can ignore the message and uncheck the box to disable the message. This applies to a case-by-case basis. In general, it is recommended to leave the message display and follow its guideline.
Dress Tab
Here is the look of the new Dress Tab.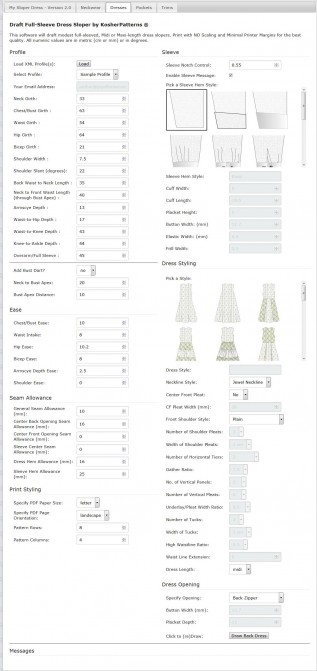 Download
We have updated the Dress Demo software to Version 2.0 as well.  It has minimal features enabled along with bug fixes for the basic dress sloper.  If you have downloaded the 1.9 version in the past, you might want to check out the 2.0 version.