BS"D
בשם ה' נעשה ונצליח!
Today we are going to show you how to design the versatile Diamond Collar in My Sloper Neckwear, also available in My Sloper Blouse and My Sloper Dress.
The diamond collar is available as of version 2.2 of My Sloper Neckwear.  By tweaking a few values in the width of the collar, you can achieve different results.
Here is what we mean by it.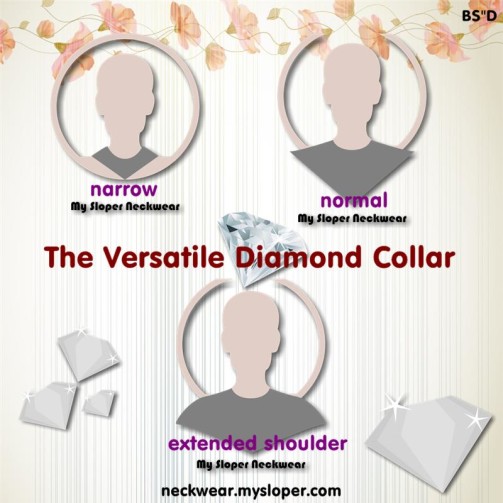 The narrow diamond collar is achieved by setting the back, front and shoulder widths of the collar to be much less than the shoulder width.  An example width might be 2.5 in. or 6.25 cm.   A normal diamond collar would span an entire shoulder width or slightly less with the front and back collar widths the same width as the shoulder width or less.  If you extend the shoulder width of the collar to fall of the shoulder, you will have something that looks like a pointed cape collar.
You can sew the diamond collar to be stiff with two layers of fabric or as an overlay like lace or a lightweight drapey material.  See some examples here.
Design the diamond collar as you would a flat collar with an adjustable roll.  The diamond collar pairs with a garment with a center back opening.  Sew the collar with a neck facing as you would a flat collar.
Download My Sloper Neckwear and try it out today.
Save
Save
Save
Save