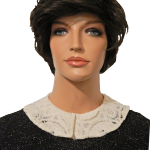 How to Design the Flat Collar
Here is a video tutorial on how to design the Feminine Full Roll and Semi Roll Collar and the Flat Collar with My Sloper. The process is painlessly easy.

We will show you how to easily design 3 types of collars:
Feminine Full-roll Collar
Feminine Semi-roll Collar
Flat Collar
What these collars have in common is that they all have a nice rounded neckline, which is more feminine than the traditional men's shirt collar, which when worn has a V-shape fold around the neck.
Our Flat Collar design makes it easy for you, the busy dressmaker, to add the collar roll or overlap and also the roundness of the collar tip for both one and two-piece collars.
Download
Test-drive My Sloper today. Download a DEMO copy.
Save